ABOUT US
Showroom for Applied Art
The SHOWROOM FOR APPLIED ART is Shop and gallery for design in the middle of Vienna's 7th district since 1997. You will find "Things of everyday life that are not everyday". - fashionable accessories, jewellery, home accessories and tableware with a specific design idea and original implementation, as well as "changeable" knitwear and scarves made of silk by austriandesign.at. The home and table accessories shown come from internationally recognised and multi-award-winning designers.
You will find a high-quality selection of the product range in the Online shopwhere you can shop online around the clock.
You can get more products and information, as well as expert advice, in the shop at Siebensterngasse 33 directly from the owner and designer Karin Merkl by appointment. With her you can also specific customer requirements discuss and commission.
Virtual tour
From now on you also have the possibility to visit our showroom virtually during a short tour.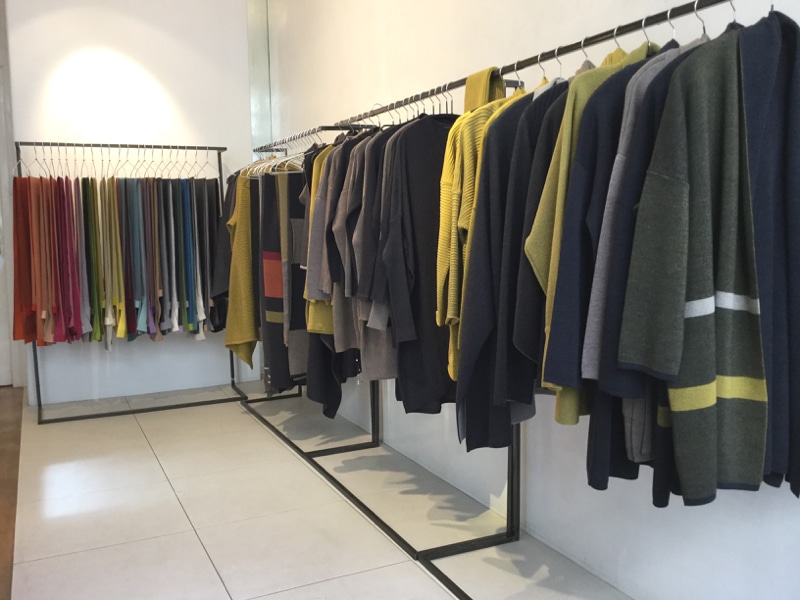 The owner
Karin Merkl opened the SCHAURAUM FÜR ANGEWANDTE KUNST in Vienna's 7th district in 1997, a gallery for contemporary arts and crafts and design. In collective exhibitions or thematic group exhibitions, unique pieces, small series and prototypes by artists and designers in the materials - ceramics, metal, wood, glass, textiles - were shown.
In 2004 Karin Merkl began to market Austrian product design internationally and regularly participated in trade fairs in Frankfurt and Hamburg. Schauraum für angewandte Kunst became a design agency and design publisher. Many of the designers represented are internationally recognised and have won several awards: Judith Rataitz (A), Margareta Niel (A), tonfisk (Fin) or Jacqueline Guenot (F). During this time, Karin Merkl designed several table and home accessories under the label kmdesign.
Since 2006 Karin Merkl has been designing under the label austriandesign.at fashion accessories. It is above all the subject of the "scarf" that interests her. She interprets and modifies the scarf, a rectangle in its basic form, so that it becomes a garment, a reversible and variable fashion for women. "Above all, this simple form of the rectangle, but also looking closely, questioning traditional design principles, finding beauty in the everyday, changing the familiar: That's what inspires me. Textiles are a great material for this!"